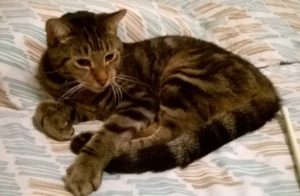 Poor Darrick just has the saddest story to tell. Once a happy boy, adopted through us to a wonderful, loving new home with his very own dad, he was very well cared for and was a close companion to brighten up the home with purrs and love for his one and only human for many happy years together.
Unfortunately his dad became really sick and passed away unexpectedly leaving this beautiful boy on his own in the home they shared.  Nobody was aware of poor Darrick as he hid away from all the strangers coming in and out, scared and confused, missing his dad and going without food and water for a whole week.
When his dads son came to clean up the apartment he noticed a flash of fur running through the house and was able to catch him. Through detective work, he found his way back to us and is now being cared for at a loving foster home.  He is a shy boy, afraid after losing his dad and being on his own. This wonderful, sweet boy really deserves another chance at being happy and loved.
Darrick is neutered and up to date on his medicals. He is looking to be an indoor only boy kitty, and would do best being his mom/dad's only fur baby.
Please contact Barb (727) 787-2919 or Jann at (727) 642-0507directly if you would be interested in hearing more.
Darrick really deserves a loving home, not a cage!!