Our Boots is a very lucky boy!  Being abandoned by his former humans, he was living in a home that had just been purchased by some kitty loving people who rescued him as they were fixing up the house he was living in.  Unfortunately they were unable to keep him so they contacted
us for help.
Boots is a wonderful sweet boy with a great personality who doesn't let his past ordeal stop him from trusting and loving humans once again.   Come meet this handsome hunk of a cat and let him and his white "boots" walk right into your heart!
Boots is neutered and up to date on his medicals. He is looking to be an indoor only boy kitty, and would be fine with another friendly pet in the house.
Please contact Barb (727) 787-2919 or Jann at (727) 642-0507 directly if you would be interested in hearing more.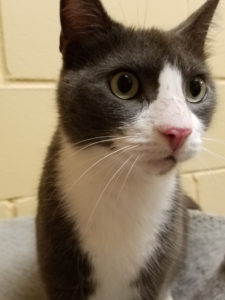 Boots really deserves a loving home, not a cage!